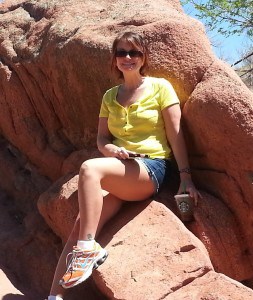 I ran across this survey over on Chronically Kristin's blog, so I thought I'd have some fun with it and share a little bit more about myself at the same time. Plus I'm crazy busy with school this month (one of those crazy 4 week classes) so it's making it harder to keep up with my blogging schedule, internship, writing, and household duties.
A to Z Blogger Survey
A – Age: 39.
B – Biggest Fear: Not being good enough (at whatever it is)
C – Current Time: 10:32am
D – Drink You Had Last: Good Belly with Aloe Juice
E – Easiest Person To Talk To: My husband or my mom (as far as actually speaking). Although, I've got a couple of online friends now that are moving up the list quickly – despite all contact being in writing.
F – Favorite Song: Currently, "Shut up and Dance". It's such a fun song.
G – Grossest Memory: Waking up (I can't remember if this was high school or shortly after) and wondering where my panties had disappeared to. I walked into the bathroom where my mom was and she asked me why my panties were in the toilet. The idea of pulling anything out of the toilet grosses me out.
H – Hometown: Huntsville, AL. I was actually born in Moberly MO but we moved here when I was still in diapers. I've left a couple of times (7 or so years in Michigan, a year in SC) but I always seem to come back.
I – In Love With: My hubby… and chocolate.
J – Jealous Of: My two best friends who are currently on a cross-World (probably) motorcycle tour together. I get travel vicariously through them.
K – Kindest Person You Know: Definitely my mom. There's nothing she wouldn't do for someone if she can.
L – Longest Relationship: going on 10 years
M – Middle Name: I'll hang onto that bit.
N – Number of Siblings: One.
O – One Wish: To not be sick.
P – Person You Spoke To On The Phone Last: Lady from my Neurologist's office.
Q – Question You're Always Asked: I don't really have a question I'm always asked. Lately, it's probably "So, what do you do?" usually in relation to my internship.
R – Reason To Smile: Many, but I should do it more often. The awesome sun shining outside is enough right now.
S – Song You Last Sang: "Shake it Off"
T – Time You Woke Up: Around 6:30am – way too early in my book. I laid in bed playing on my tablet till after 8am.
U – Underwear Color: Good question. I can't remember.
V – Vacation Destination: Yucatan Mexico. It was an amazing trip. We rented a car and drove to Chechen Itza, then Tulum, then Coba and back to Tulum, then to Cancun with a stop in Playa for lunch. I can't wait to go back.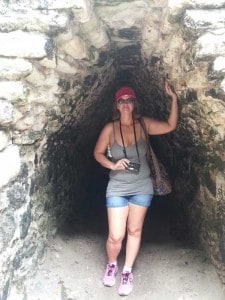 W – Worst Habit: Not making the bed? I really have no idea. I used to be an awful procrastinator, but getting sick changed that and now I'm always doing things in advance because I just never know when some issue will hit me at the last moment.
X – X-Rays You've Had: Arm (broke it when I was about 3), elbow, neck, head, stomach and probably a few others.
Y – Your Favorite Food: Chocolate would have to be the answer here.
Z – Zodiac Sign: Sagittarius.
(Visited 1,441 time, 1 visit today)