We've all been there, struggling to understand why a doctor seems unwilling to treat us, and it feels like the only reason is because we have fibromyalgia. Why does it often feel like doctors discriminate against us because we have this illness?
The easy answer is to believe that it's because they don't think our illness is real – and in some cases that may be the case. But, there may be more to it than that.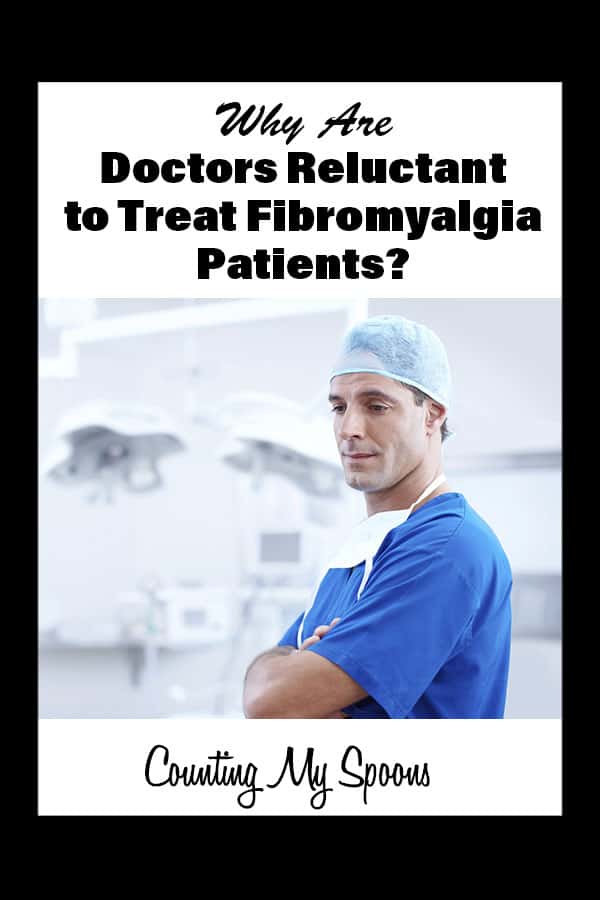 A 2016 study examined the perceptions of doctors towards patients with fibromyalgia.
233 Rheumatologists, in Japan, with a history of treating Fibromyalgia patients were evaluated via multiple questionnaires about their perception of patients with Fibromyalgia. A past study showed that doctors viewed Fibromyalgia patients as significantly more difficult than patients with RA.
A Spanish study showed that physicians perceived Fibromyalgia to be primarily Psychological in nature, and hard to control. This study examined the question of why doctors are reluctant to treat Fibromyalgia patients.
The Good News: Just over 44% said they would welcome more Fibromyalgia patients. While most expressed a hesitation to accept new Fibromyalgia patients, it was not because they perceive us as "difficult patients" but because they feel inadequate at helping us.
Doctors are reluctant to treat #Fibro patients. The reasons may be a bit surprising.
Click To Tweet
The Bad News: The primary reasons that the 55+% of doctors who would not see FM patients their prime reasons for not doing so were (in order)
1. It would be better for them to see a Fibromyalgia specialist – 19.5%
This is the best answer they can give and it boils down to they do not feel confident in their knowledge and understanding of our illness. And, that's OK. No doctor can know everything about every illness. This is why there are specialists. Unfortunately, there aren't enough fibromyalgia specialists, but I do believe the number is growing.
2. It's a Psychiatric disorder – 14.4%
These are not the doctors who don't think fibromyalgia is real, they just don't think it's a physical ailment. Thankfully, science is continuing to prove that it is actually a physical ailment, most likely neurological. It might be all in our head, but not in the way these doctors think.
3. It takes too much time – 14.1
As costs force doctors to spend less and less time with their patients, it becomes more difficult for doctors to handle chronic illnesses, especially ones that don't have a set treatment plan. This brings us back to number 1, we are better off with a doctor who is focused on our illness.
4. Too many are "difficult" – 13.5%
My guess is that this perception comes from their inability to treat fibromyalgia patients as a unit. Rather than accept their own limitations (as doctors in the next group are able to do), they would rather blame us. Of course, that's not to say that some of us aren't difficult, I know I have my moments.
5. Not confident in the treatment – 12.9%
I would so much rather a doctor admit this up front and refer me to someone they feel more confident in than to take on something they aren't confident in. I've been on the receiving end of under prepared doctor and it's not fun. It would only lead to increased frustration for everyone involved, and slow down the time it would take us to find quality treatment.
6. Doubtful that FM is real – 12.9%
Yes there are still a portion of doctors dinosaurs who don't believe fibromyalgia is real. But, I've witnessed that number shrink over the last decade. It's becoming more and more difficult for them to doubt us, especially as more and more studies show that what we are dealing with is not all in our heads. It's good that they would rather not see us, because we'd rather not see them.
The doctors expressed frustration at the inability to control symptoms, and patients emotional responses. Their biggest issue taking new patients was the inability / difficulty of controlling the patients symptoms through treatment. Another issue that affected doctors frustration level was "causal attribution" or what the patient (or doctor) believed was the cause of the illness.
Another point of the study was the doctors who consider the primary cause of Fibromyalgia to be "patient internal/psychological factors" have the most difficult relationships with their patients.
Conversely, those doctors who felt that Fibromyalgia was caused by external / medical factors had a much easier relationship with their patients. Doctors also have a more difficult relationship patients who have a history of Psychological disorders.
The good news for us as patients is that we can know that if a doctor has issues with us, it's not about us, it's about their perception of our illness. Therefore, it's important that we find a doctor who has a positive view of Fibromyalgia and does not view it something Psychological.
Related Posts:
Source:
Homma, M., Ishikawa, H., Kiuchi, T. (2014). Association of physicians' illness perception of fibromyalgia with frustration and resistance to accepting patients: a cross-sectional study. Clinical Rheumatology.