This week we are talking with Christy Foster a musician and health-coach from Michigan. I ran across a song that she and her band, Christy and The Professors, recorded called Flare. Take a listen, I'll bet you can identify with the lyrics.
Have you heard this awesome song about living with #fibromyalgia? Click To Tweet
When were you diagnosed?
I was diagnosed at the age of 31, but I had been experiencing symptoms from the time I was 25.
What lead up to your diagnosis?
I had excruciating pain throughout my body. I had numbness and tingling. I always felt like I was walking through mud. I saw numerous doctors and most just treated me like it was in my head. Finally a doctor checked the trigger points and very callously said, "You have Fibromyalgia. I'm writing you a prescription for pain meds" and simply left the office.
What was your life like at the time?
I had been married for 10 years at the time of my diagnosis and I had a 3 year old daughter.
How did your family initially handle your illness?
At first it was tough. It's hard to comprehend when someone is sick when they look so healthy. It was hard to get people to understand that I wasn't making the fatigue or pain up – that I wasn't lazy or a hypochondriac.
It's hard to comprehend when someone is sick when they look so healthy.
Click To Tweet
What do you feel is the most challenging aspect of Fibro?
Probably feeling isolated and misunderstood. Also, being a high-energy person trapped in a low energy body.
Do you have any other co-existing conditions?
I have Hashimoto's Thyroiditis. It helps a lot to make sure that is in check. Energy, pain, and brain fog all tie in to low thyroid functions.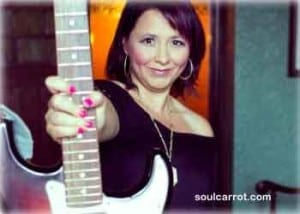 What (if anything) have you found/ done that has improved your symptoms?
I've literally tried everything you can imagine. I went to doctors, chiropractors, massage therapists, nutritionists, holistic practitioners, acupuncturist… Sometimes things helped a little, but never very much. Finally I decided to take matters into my own hands and went to school to become a health coach. In doing so I learned what was going on in my body and was able to put the Fibromyalgia in remission. I now only have a flare maybe once per year and it never lasts more than a few weeks. You have to realize I was bedridden for a LOT of the time I dealt with Fibro because of pain and/or fatigue, so this is HUGE! I now get to help others improve their lives as well.
How open are you with friends & family about your illness and symptoms?
Pretty open! I write about it on my blog, sing about it in my music. I do realize that not everyone will appreciate my story. So, I don't always share it.
How did you decide to share your pain through your music?
Honestly, the song started as a joke. I wrote this little lick and told my husband I was going to write a punk song about Fibromyalgia. He laughed. I proved him wrong 😉
I told my husband I was going to write a punk song about Fibromyalgia. He laughed....
Click To Tweet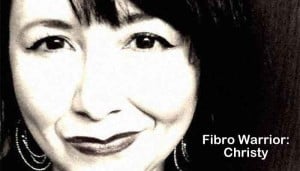 Is "Flare" the only song you've written that relates to your health battles?
All of my songs have a tinge of something I've gone through in them… or something someone close to me has gone through. I intentionally write songs so that they can have multiple meanings. That way a song becomes living, if you will. One person may think a song is about a relationship, another about God, another about their mom. I love for people to make my songs their own personal anthems for whatever they are going through.
Your song "Flare" is available for download on your website, do you have other music available yet?
Right now you can download our latest CD "Voices" at http://christyandtheprofessors1.bandcamp.com/music. The best way to see what we are up to is on our Facebook page.
What is the best advice you've received regarding Fibromyalgia?
You know yourself better than anyone else, even doctors. Trust your GUT.
What was the worst advice that you followed?
Taking a bazillion supplements and spending tons of money. What I found is that 85% of Fibro issues have to do with diet. Supplements may help, but they don't cure.
What is one thing you've learned about yourself since your diagnosis?
I'm a badass warrior ninja 😉 In other words, I'm by far tougher than I ever knew.
I'm a badass warrior Ninja... tougher than I ever knew.
Click To Tweet
What is the most important piece of advice you would give to someone newly diagnosed with Fibro (or even still seeking a diagnosis)?
A LOT of people will tell you it is impossible to go into remission. Don't believe them. Find someone who will help you find out how YOU tick, what your triggers are. I highly recommend finding a health coach who helps people who struggle with Fibromyalgia.
If you are interested in learning more about Christy's health coaching practice, visit her website SoulCarrot.com. Also, be sure to check out her band, and follow them on Facebook.
(Visited 528 time, 2 visit today)