What is a spoonie?
A question that comes up pretty often on Twitter is "What is a Spoonie".
We often used the hashtag #spoonie in our posts or refer to ourselves as Spoonies, and those who are new to the term don't understand why.
What is the definition of a spoonie? And, where does that term come from?
The origin is The Spoon Theory by Christine Miserandino of But You Don't Look Sick.
She wrote The Spoon Theory to help explain what living with the fatiguing symptoms of Lupus is like. Since then many of us with other fatigue-related syndromes or invisible illnesses have taken the term as an endearing label to refer to ourselves.
We use the Spoon Theory often as to help us explain to others what it's like to live with invisible illness and why some days we may be able to do more than others. We call our energy "spoons", and those in the know may even ask us "how many spoons" we have rather than how we are.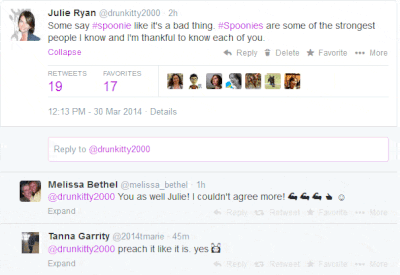 Some say #spoonie like it's a bad thing. Spoonies are some of the strongest people I know.
Click To Tweet
I had a conversation on Twitter with an account claiming to be from a "physician authored" resource on Lyme disease. He (or she) identified the idea of Spoonie as being a bad thing, responding with "you are what you think" so they would never use that term.
"if you're in a club you don't want to be in, why describe yourself as member?"
and followed with…
"Why make undesirable club your identity? Why say club name repeatedly? Why wear club color? Why own it? Leave"
My response was simply that I don't find it undesirable to identify myself with others who understand what I'm going through.
So, what do you think? How do you feel about identifying yourself as a Spoonie , or even as a Fibro Warrior, or a Lymie, or whatever nickname is used to describe your particular illness. Do you feel that identifying with others who are struggling as you are adds to your struggle? Or, do you feel that that identification helps you in some way?
Do you identify as a #spoonie?
Click To Tweet
Related: