We found out this last weekend that we will be hosting Christmas at our house for my husband's family. There's a lot of them. I haven't really hosted anything here at the house in the last year for a variety of reasons.
It's not that I don't enjoy hosting (I do), but at this point it's been long enough that the idea kinda scares me a little. I guess it was one of those synchronicity things then when I noticed that one of my top posts was last year's post about "Entertaining With Fibro". Evidently, I need a refresher course.
Christmas is two months out, so it's time to start making a plan. We will need to rent some tables and chairs to have enough seating for everyone. We also need to get a list of who is bringing what.
Because we are hosting I will be making the main courses. After thinking about it I decided that instead of a huge turkey that I'm not sure I could cook right or two small turkeys that would take a major balancing act to cook and then reheat, I will cook one medium turkey and then pick up a pre-cooked ham.
With the number of others who will be attending, sides should take care of themselves, but for those few others that we are expected to provide my hubby will be putting his cooking skills to use.
So here are my tips again (as a reminder to myself, and to you, as well).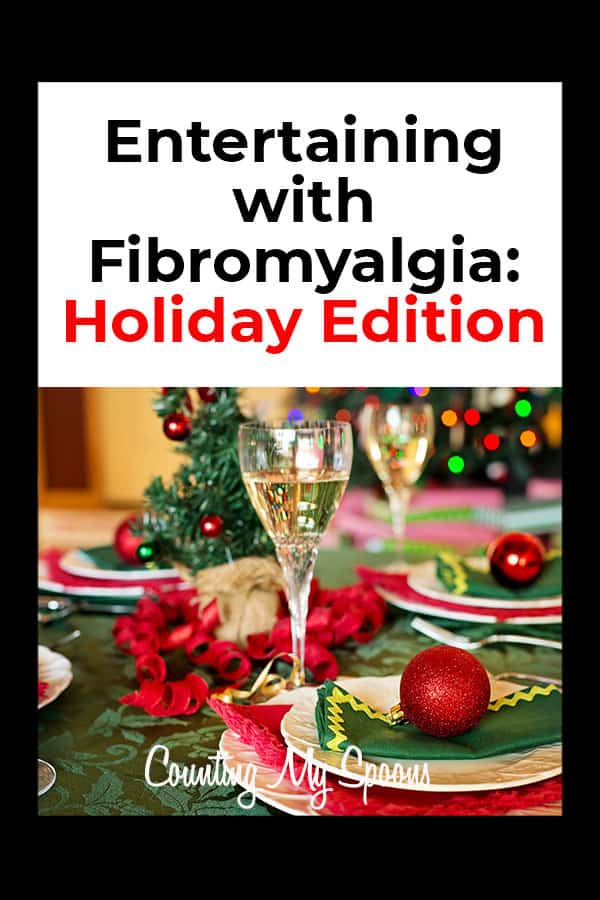 Make a Plan: If you are hosting a holiday meal this year, start planning now. This goes double if you are hosting Thanksgiving. Start making a list of what needs to be done and assign each item to someone (preferably not yourself).
Get Some Help – again assign those list items to others. Make a list of what items are expected at your holiday meals and then assign each item to someone. If you can get someone to bring the turkey (or whatever main dish you have) all the better. If not, you may want to consider one of the many pre-cooked to order options that are available.
Use Shortcuts – Whenever possible use shortcuts for those items you do have to cook. It doesn't have to be "from scratch" to be home-cooked. Use ready to cook items and just spice them up a little to give them a personal touch.
Use Disposable Dishes – my mother in law tried to suggest that she would bring her real dishes here so we had enough. No Thanks!
Why wash all those dishes!? There are some really great (nice) disposable dishes available (nice enough that my MIL will probably want to wash them).
This also applies to your turkey roaster, get one of those disposable roaster pans so you can just throw it away with the turkey carcass.
Rest Up! As stressful as you know the event will be it's all the more important to make sure you get plenty of rest.
Don't plan to cook the day before (outside of event prep), order a pizza or have a casserole that you've already made and frozen.
Eat something easy the morning of your event (like cereal instead of feeling the need to make pancakes). Conserve your energy before and during the event so that you have some left over afterwards to enjoy your family and friends instead of looking at them as an energy drain.
If you have other tips to share on how you make entertaining during the holidays go more smoothly, please share them.
Happy Holidays!
Related Posts: