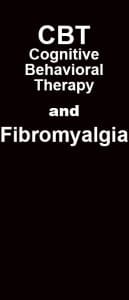 I wrote a bit on Cognitive Behavioral Therapy and Fibromyalgia a couple of months ago. Today, I ran across an article which discusses the topic again.
Reading this article, it almost comes across as if the author is saying that if people with Fibromyalgia would just tell themselves it doesn't hurt, it would stop hurting. I've tried it, it doesn't work. Another thing that bugged me about this article is that at the beginning when it attempts to explain what Fibromyalgia is, it almost comes off as if they are saying that it's all in our heads. Which is just re-enforced by their idea that thinking it doesn't hurt will make it stop hurting.
When I wrote before, I talked about the "Fear of Pain" and how the stress of worrying that something might cause pain later, or may actually make it hurt more. I do believe that is true. When we are stressed or worried, we tense up and that does cause more pain. But, that's not the only cause. There are things that really do cause pain, and because our neurotransmitters are screwed up and our nerves are screwed up, we feel it more than most people do. My personal belief (and the cause most widely acknowledged for Fibro) is that the problem is caused by some major trauma. Basically, at some point, something happened to us that caused a great deal of pain for a long period. After experiencing so much pain for so long our nerves basically went on constant alert and thus begin to feel everything MORE.
For me, that first trauma was TMJ. I won't go into what set it off but it resulted in 3 months of intense myofascial pain followed by the next 18 months of  generalized pain, as well as bouts of intense pain (usually caused by some activity). After those 18 months, at a time when things seemed to be getting better, I got hit with what I thought was the flu. Said "flu" lasted for 2-3 weeks, caused me to miss classes and work and did not seem to want to go away. Once that "cleared" up, I was never the same. I never got my energy back and remained fatigued. Around the same time, a treatment related to my TMJ caused that problem to flare up leading to more extreme pain that lasted for 4-6 weeks. At this point anything could cause me to "flare" but most likely it's the same things that cause me TMJ pain. Yes, I avoid doing a lot of things for "fear" of possible pain and flare-ups. But there are so many things that I would never think would cause me pain or "a flare" and yet they do.
If all I have to do is change the way I think, then the things that I "don't think" would cause me pain, shouldn't cause me pain. Just sayin'.
(Visited 625 time, 1 visit today)