About a year ago I was referred to pain management for the second time, and for the second time I was less than impressed with this particular service. This office (like many from what I understand) is run almost like a factory. You are just a number, one of thousands that they see each day. They don't know your name, they barely listen to you when they ask how you are. They hand you a prescription to tide you over until you can get in for your injection appointment months down the road. At least that was my experience. The injection did me no good and that was the only time I ever actually saw the doctor. He didn't even ask me where the pain was before the injection. Then it was back to his NPs. After a years worth of these types of visits I've cancelled the remaining appointments in hopes of finding someone better. But, how do I do that? I've done a little research into the other options in my area, and a lot of research into finding a chronic pain specialist and I want to share what I've learned with you.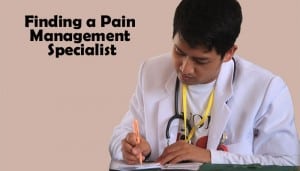 1. Find a doctor that will listen to you. If you are just another number it's time to find a different doctor.
2. Find the right type of doctor. There are lot of different types of pain management specialists. It's important that you find one that fits your pain. If it's chronic migraines you want a neurologist that is certified in pain management. If it's chronic pain of some other kind, you may want an anesthesiologist, or an orthopedic doctor that is certified in chronic pain. Find out what kind of doctor they are.
There are two primary types of chronic pain management doctors: medical pain management specialists and intervention pain management specialists. Medical pain management specialists use a combination of medications, trigger point injections, prolotherapy, and physical therapy to treat your pain. They may also refer you out for other types of treatments like chiropractic care, and acupuncture. Intervention pain management specialists are the more standard pain management doctors that use epidural injections, nerve blocks, nerve ablations, and pain pumps, as well as other invasive (or surgical) procedures. Therefore you may want to start with a medical pain management specialist first before moving on to the intervention pain management specialist.
3. Talk to the Doctor. Yes, nurse practitioners can do a great job at many things. But, they are not the doctor. And, when all the NP is doing is handing out prescriptions, they aren't doing anything for you but handing you a band-aid. If all you want is a band-aid that's fine, but chances are you want more than that – you want answers. Talk to the doctor and find out what kind of services they offer to help alleviate your pain. Do they offer just one standard service to everyone (injections) or do they base the treatment on the patient? You want the latter.
In the end you've got to go with your gut. But, if you do your research and don't do what I did and just go wherever you are initially referred without asking questions you'll likely find a pain management doctor that is right for you. Most insurance companies do require that you have a referral to a pain management doctor. If that is the case for you and you choose to go to a different doctor than you were originally referred to, don't be afraid to call the doctor who provided your referral and ask for a new one to the doctor of your choice.
Remember, Finding a Chronic Pain Specialist will require a little bit of work on your part, but it shouldn't add any extra pain.
(Visited 588 time, 1 visit today)